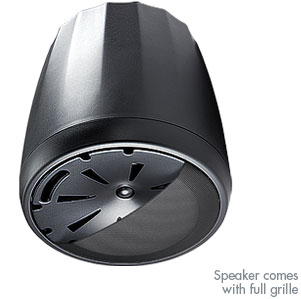 ▶ 제품특성

Control 67P/T는 큰 인클로져와 6.5"(165mm)의 고출력 드라이버를 사용하여 확장된 저음역과

고품질의 사운드를 구현합니다.

Extra-Large RBI(Radiation Boundary Integrator) 기술은 뛰어난 패턴 컨트롤을 가능하게

할 뿐 아니라, 적은 수의 스피커로 공간을 커버할 수 있습니다.


▶ 상세스펙

System


Frequency Range (-10dB)
58 Hz – 20 kHz

Frequency Response (±3 dB)
78 Hz – 16 kHz

Power Capacity
75 Watts Continuous Pink Noise Power (with 300 Watts peaks)
150 Watts Continuous Program Power

Nominal Sensitivity
90 dB

Nominal Coverage Angle
120° (+20°/-10°)

Directivity (Q)
5.7

Directivity Index (DI)
7.5dB

Rated Maximum SPL (1m)
109 dB continuous pink noise, 115 dB peak

Rated Impedance
8 ohms

Transformer Taps
70V: 60W, 30W, 15W & 7.5W
100V: 60W, 30W, 15W

Transformer Insertion Loss
0.5 dB @ 7.5 W, 0.5 dB @ 15 W, 0.6 dB @ 30 W, 0.7 dB @ 60 W

Transducer


LF Driver
165 mm (6.5 in) polypropylene-coated paper with pure butyl rubber surround, 25 mm (1 in) copper voice coil, vented fiberglass resin voice coil-former

HF Driver
25 mm (1.0 in) textile soft-dome, neodymium magnet assembly,
ferro-fluid cooling, aluminum voice coil former

Enclosure


Dimensions (H x W x D)
312 mm (12.3 in) diameter x 330 mm (13.0 in) height to top of cabinet. 350 mm (13.8 in) to top of suspension bracket.

Net Weight
5.2 kg (11.5 lbs)

Shipping Weight
12.3 kg (27 lbs)

Included Accessories
Two suspension cable systems (see "Suspension", above), two 2-pin removable locking euro-block connectors, two rubber covers for euro-block connectors.

Optional Accessories
MTC-PC60 top panel / terminal cover

Colors
Available in black or white (-WH). Paintable.