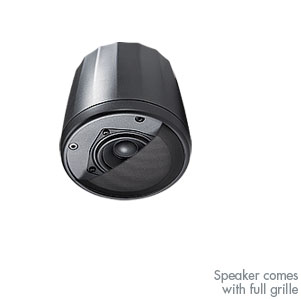 ▶ 제품특성
스피커의 노출이 적어야 하는 환경에서 Control 62P는 가장 이상적으로 대응되는 스피커입니다.

Control 62P의 2" 드라이버는 스피치와 음악 재생(미드-하이)에 적합한 스피커입니다.

(별도의 하이패스 필터를 필요로 합니다).

4개 이상의 Control 62P와 Control 50S/T 또는 Control 40CS/T 서브우퍼의 조합을 하여

풀레인지 음악 재생이 가능합니다.


▶ 상세스펙

System


Frequency Range (-10dB)
150 Hz – 20 kHz

Frequency Response (±3 dB)
200 Hz – 17 kHz

Power Capacity
50 Watts Continuous Program Power (2 hrs)
25 Watts Continuous Pink Noise (2 hrs)
30 Watts Continuous Program Power (100 hrs)
15 Watts Continuous Pink Noise (100 hrs)

Nominal Sensitivity
87 dB (4.0 V, 1 W)
84 dB (2.83 V)

Nominal Coverage Angle
140° (+25°/-50°)

Directivity (Q)
4.7

Directivity Index (DI)
6.2dB

Rated Maximum SPL (1m)
97 dB continuous pink noise, 103 dB peak

Rated Impedance
16 ohms (no transformer taps)

Recommended High-Pass Frequency
150 Hz

Transducer


Driver
60 mm (2.5 in), polypropylene-coated paper with pure butyl rubber surround, 20 mm (¾ in) copper clad aluminum voice coil with vented Nomex? coil-former.

Enclosure


Dimensions (H x W x D)
128 mm (5.1 in) diameter x 121 mm (4.8 in) height to top of cabinet. 141 mm (5.6 in) to top of suspension bracket.

Net Weight
0.7 kg (1.5 lbs)

Shipping Weight
2.0 kg (4.3 lbs)

Included Accessories
Two suspension cable systems (see "Suspension", above), two 2-pin removable locking euro-block connectors, two rubber covers for euro-block connectors.

Optional Accessories
MTC-PC62 top panel / terminal cover

Colors
Available in black or white (-WH). Paintable.